Louisa Geddes is an Australian abstract expressionist painter - who has been painting for 22 years.
Her first memories of paintings were by her Grandmother, who was an oil painter. Living on a sheep station in the Western District of Victoria, Australia was a wonderful playground where life followed the rhythm of the seasons. An appreciation of nature was ever present.
In 1965 Louisa received a General Nursing Certificate from The Alfred Hospital, Melbourne and worked as a Registered Nurse in Australia, California, and Greymouth, New Zealand.
Pioneering fashion in the early 1980's in Far North Queensland and establishing 3 Fashion Boutiques in Port Douglas over a period of 11 years gave Louisa the opportunity to empower local designers and travel extensively whilst buying fashion items for her business.
Louisa has exhibited works in Australia and New Zealand. Initially Louisa painted in water colours under the guidance of Lludjich Pedan and Joyce Stewart, Northern Queensland, who instructed her "to go away and paint" which she did in Papua New Guinea, Indonesia, Thailand, Vietnam, Italy and India.
After completing a BA in Politics and a Graduate Diploma in Environmental Management and Development at the Australian National University, Canberra, Louisa spent 1999-2000 in Tamil Nadu , Southern India as a product designer and worked with artisan groups (weavers, potters, stone masons , tie dyers, master tailors) in Madras and Pondicherry for Community Aid Abroad, Australia.
Since arriving in New Zealand in 2001 she has been painting in acrylics with the occasional oil high lights. She has exhibited in Australia and New Zealand and her Naïve art works have found homes in Sweden, England, USA, New Zealand and Australia.
Coming to the Hokianga 5 years ago from Blackball, West Coast, South Island, Louisa was a pioneering member of Village Arts, Community Gallery, Kohukohu.
Louisa attended the inaugural year of The Hokianga Art and Craft Course, Opononi 2006, and completed a Diploma of Applied Art at Rawene Polytechnic 2012 under the Tutelage of Sue Daly. Louisa was a finalist in the James Wallace Art Awards in 2012 and one of her works, The Resolution, from her Dragonia series is now in their permanent collection.
Dragonia Series
Every culture has their dragon. In these paintings I have merged the European Medieval Dragon with the Aoterora Taniwha , to transport the viewer into another dimension. I wish to remove the observer from the mundane to the magical and mysterious. It is important to share my muse in the narrative through charm, colour and chaos. I draw from my father, a story teller and my local environment in the Hokianga where the Taniwha resides.Bromeliads in Bloom Series
Thanks to home gardeners, the Bromiliad species is now global and creates a haven for endangered Bell Frogs and spiders. The diversity of colour of the blooms and the unusual leaf patterns of these native Americas plant stimulated the artist Louisa Geddes to paint this 2010 series
No 1. $2000.00 sold
Gallimaufry 2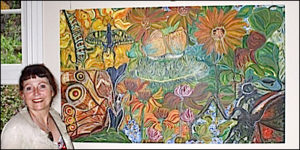 Acrylic on canvas.