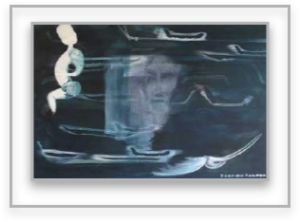 Tane me tona Ao 2007
12"x12"
acrylic on canvas
Private Collection – Northland
Exhibition:
Beyond the Room
Mamaku, Omapere
Hinemoa Hauraki is of Ngapuhi/ Te Arawa descent and was raised in the small community of Omanaia, Hokianga South.
Art and crafts have played a huge role in her life, a talent she credits to her mother. Over the last ten years Hauraki has worked on a number of community projects, particularly in Te Atatu Peninsula.
In 2002 she decided to take her hobbies a step further when she applied for a place in the Manukau Institute of Technology's Certificate in Visual Arts Level 4 (CVA) program operating through Rutherford College in Te Atatu Peninsula.
Hauraki attained the Certificate in Visual Arts from Manukau and has completed two years toward a three year Bachelor of Visual Arts degree through Auckland University of Technology.
She has since returned to the Hokianga and currently resides in Pakanae near Opononi where she continues to work on her art practice.
Karanga Hokianga tuatoru 2007
24"x36"
acrylic on canvas
Private collection – Northland
Exhibition:
Same Room, More Magic
Village Arts Gallery, Kohukohu