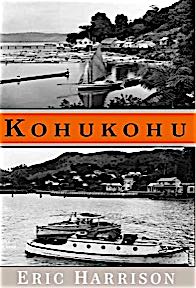 Tidal Publications presents the 2nd edition of Eric Harrison's acclaimed book Kohukohu.
Kohukohu is a fascinating history and collection of historic and contemporary photographs of one of New Zealand's oldest communities nestled on the shores of the beautiful Hokianga Harbour.
In this delightful publication, Eric Harrison has documented the story of this colourful and remote village that was once the hub of the kauri timber industry in Northland.
100 pages
ISBN 978-0-473-11674-3
September 2007
The price for the book is $35 plus $5 p&p.
If you are a retailer and wish to purchase stock, please contact Tidal Publications, on (09)4055815 for further information or write to:
Tidal Publications P.O. Box 45 Kohukohu 0453 Hokianga Northland New Zealand
To order contact Village Arts
Kohukohu
(09)4055827, (021)0514294